Brickwork and insulation without foundations
The Brick Panels system permits clean, uncomplicated and inexpensive brick facing of walls on old, prefabricated and new houses indoor and outdoor, offering both thermal and sound insulation at the same time.
The bricks of the Brick Panels system are natural composite of thermal-insulation polyurethane and high quality, hard-baked brick facing tiles made from specially selected clays and fired up to 1200C°. As a result, they are extremely dense with a water absorption rate of only 2 to 6 percent (%).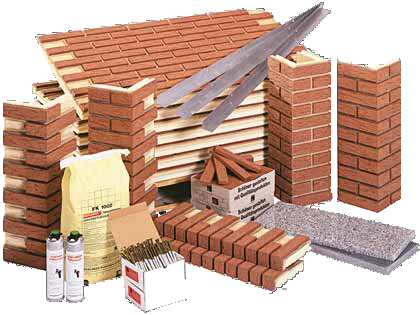 All facing brick tiles are frost-resistant, dimensionally stable and colour fast.
Without requiring any preliminary work, the Brick Panels elements are secured directly to the outside wall using special wall plugs before being joined.
Extensive work on the foundations is unnecessary and is not usually necessary to extend the soffits eaves (roof projections).
There is a host of individual design possibilities available with special elements co-coordinated for the specific building available for corner areas, lintels and etc.