Water vapour can diffuse outwards.You can usually save all cleaning and painting work in the future. Existing cracks and damaged plasterwork are bridged by our systems.
Tested quality - your security.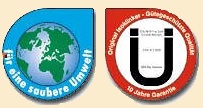 Our products is successfully active throughout Europe with its product groups. The long life of the products and the use of high-quality materials are primary considerations in our corporate philosophy.
Continuously growing requirements for energy saving, reduction of pollutant emissions from flues and chimneys, and saving fossil resources are always considered in the further development of our products.
The product has its products continuously inspected by a state Materials Testing Institute for civil engineering.
The quality and functionality of our thermal insulation composite systems is now well-known in Germany and throughout many parts of Europe.
All our brick-tiles have also an in-house product quality controls, are externally supervised by GŁteschutz Ziegel e.V. (German quality auditing commission). GŁteschutz Ziegel also carries out its own control measurements. The certificate is the evidence that has been granted both CE mark of conformity and quality mark and is allowed to use them for their products. It also indicates that the in-house inspections have been correctly carried out
.