The Brick Panels with insulation
Brickwork and insulation without foundations
The Brick Panels system permits clean, uncomplicated and inexpensive brick facing of walls on old, prefabricated and new houses indoor and outdoor, offering both thermal and sound insulation at the same time.
The bricks of the Brick Panels system are natural composite of thermal-insulation polyurethane and high quality, hard-baked brick facing tiles made from specially selected clays and fired up to 1200C°. As a result, they are extremely dense with a water absorption rate of only 2 to 6 percent (%).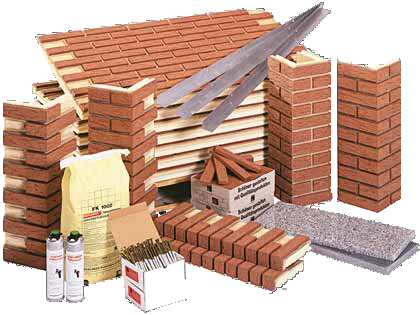 All facing brick tiles are frost-resistant, dimensionally stable and colour fast.
Without requiring any preliminary work, the Brick Panels elements are secured directly to the outside wall using special wall plugs before being joined.
Extensive work on the foundations is unnecessary and is not usually necessary to extend the soffits eaves (roof projections).
There is a host of individual design possibilities available with special elements co-coordinated for the specific building available for corner areas, lintels and etc.
Brick Tile Formats
- Slim format (DF) 52
х
240 mm
- Reichs format (RF) 65
х
240 mm
- Waaldick format (WDF) 65
х
210 mm
- Normal format
(NF)71
х
240 mm
Thickness of the brick panels and corner panels:
The Brick Panels are available in thickness- 40 mm, 60 mm, 80 mm, 90 mm, 110 mm, 120 mm, 140 mm, 160 mm, 180 mm and 200 mm.
Brick Panel Thickness

Without insulation

With insulation

NETZ system

:

9 - 14 mm on net mesh

PUR-LESS system :

14 - 17 mm and 20 mm

40 - 200 mm
1. The

Brick

Panel

s with insulation,

dimensions (WxH)

STRETCHER BOND

DF brick-tiles 138.5 x 69.9cm (0,97 mē)

RF brick-tiles 138.5 x 69.8cm (0,96 mē)

WDF brick-tiles 134.0 x 64.0 cm (0,86 mē)

NF brick-tiles 138.5 x 74.8 cm (1,03 mē)

FLEMISH BOND

DF brick-tiles 113.5 x 69.9cm (0,79 mē)

RF brick-tiles 113.5 x 77.3cm (0,88 mē)

WDF brick-tiles 123.5 x 64.0cm (0,79mē)

SOLDIER (SALOR) BOND

DF brick-tiles 126.2 x 69.9cm (0,88 mē

NF brick-tiles 126.2 x 74.6cm (0,94 mē)

RF brick-tiles 126.2 x 69.3cm (0,87 mē)

WDF brick-tiles 135.9 x 69.8cm (0,79mē)
Click here to see Brick Panels installation
The patented fixing bush with ISO sealing –
DE Patent 101 39 261.3-25
Optimum guiding for plugs and screws (Norista A4 stainless steel or galvanized). No compression of heat insulation, because bush is provided with an arresting element towards the wall! No thermal bridges via polystyrene plugs in front of the screw heads.
11 dowel fixing cases
for each System-Element and
4 dowel fixing cases
per prefab corner guarantee and extremely safe hold on the wall of the house!
2. The Brick Corners

with insulation

Finished corners

as HE, FE and lintel

RF system

Stretcher bond - Height: 69.3 cm

Flemish bond - Height: 77.5 cm

NF system

Stretcher bond - Height: 74.5 cm

WD

F

system

Stretcher bond - Height: 64 cm

Flemish bond - Height: 64 cm

D

F system

Stretcher bond - Height: 69.9 cm

Flemish bond - Height: 69.9 cm

Finished corners

1 thigh is without foam

RF, NF, WDF, DF system

1 thigh is without foam

Thickness -25 mm

Used where window soffits are too narrow.

F

or example:

-as window corner and lintel

-as soffit

Trimming corners

Stretcher bond - Height: 69.3 cm

NF system

Stretcher bond - Height: 74.5 cm

D

F system

Stretcher bond - Height: 69.9 cm

WD

F

system

Trimming corners technically not possible

Special corners

Starter corner

Not for every colour
Example of the Brick Panel system 60mm: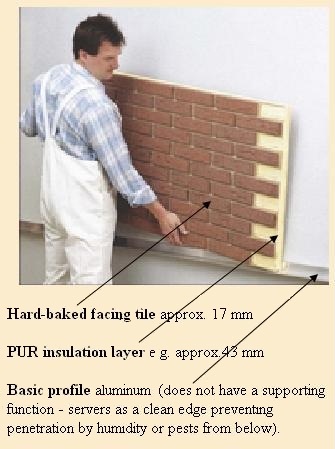 Active fire protection
Active fire protection:

In addition our "Isoklinker PUR" prevents a fatal fire spread due to glowing, Special because of the implemented clay brick tiles, our Brick panel system offers more security for residents and crafts men. The brick-panels are acc. F

ire class: B-s01, d0 according to EN 13501-1 (as the panels are mounted) See our datasheet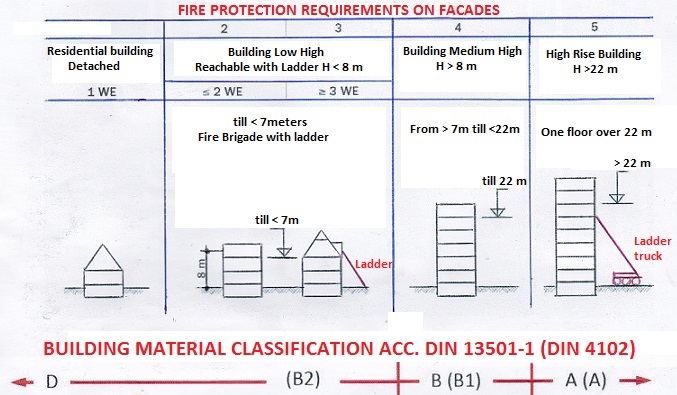 Basic principles
Fire reaction
Behavior of a (building) product that, through its

degeneration, feeds a fire from which it is

exposed.

European classification acc. to DIN EN 13501-1

A1, A2, B, C, D, E, F